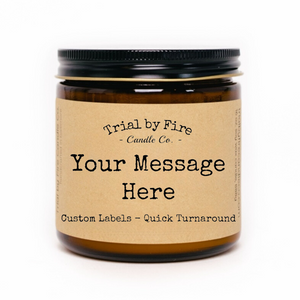 Say it with a Candle (Custom)
Regular price
Sale price
$29.99
---
A customized 15.6 oz. double-wicked candle in your choice of our most popular scents.

Candles are boxed and ready to gift!
Great for Wedding Gifts, Birthdays, Corporate/Personal Gifts, Baby Shower, Anniversaries, Engagements, Housewarming, Congratulations, Bar/Bat Mitzvah, Graduation, Practical Jokes, Well Wishes, In Loving Memory.

Select your scent and submit your label text in the dialog box. Please be sure to include your email address when checking out.
Volume discounts and Luxury Vessels are available. Please email trialbyfirecandleco@gmail.com for more info.
Fragrance Notes:
Sea Salt & Orchid
Light, crisp and calming... subtle floral notes and sea salt create a balanced and inviting environment in any room of your house. A best seller.
Top: Sea Salt, Ozone
Middle: Jasmine, Lily of the Valley, Green Leaves
Base: Wood, Tonka Bean
Black Currant & Absinthe
Captivating and sensual... delicate fruit and warm spices create an intoxicating environment that will leave you feeling calm, yet alert. This is a great candle for the bedroom.
Top: Saffron, Apple
Middle: Black Currant, Blackberry, Vanilla
Base: Anise, Patchouli, Amber
Oakmoss & Amber
Crisp and zesty... a clean blend of citrus and sage. Oakmoss & Amber is a modern fragrance with universal appeal. 
Top: Sage, Orange, Grapefruit
Middle: Lavender
Base: Oakmoss, Amber, Tonka Bean
Zesty Lavender
Clean and invigorating... this zesty fragrance bomb will brighten up any room. A fresh blend of citrus and lavender flowers makes it the perfect all-season candle for any room in the house.
Top: Tangerine, Lemon, Orange Blossom 

Middle: Plumeria, Jasmine, Cyclamen

Base: Clove, Vanilla
Green Tea & Lemongrass
Clean and citrusy... rich green tea leaves and crisp orange blossoms perfectly accent a warm base of amber and smooth cedar.   

Top: Green Tea, Lemongrass, Orange

Middle: Green Floral, Jasmine

Base: Orange Blossom, Cedar, Amber