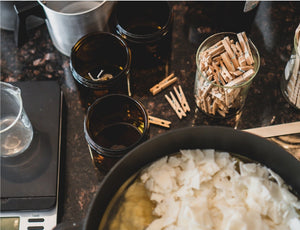 What's in a Trial by Fire candle?
- Each candle is made with the highest quality soy wax available on the market. A renewable resource, soy wax is clean and slow burning.
- Inspired scents that are hand selected and blended by a career chef trained at the Culinary Institute of America
- The cleanest fragrances available on the market- free from phthalates, carcinogens and toxins that require a Proposition 65 warning in California, as well as similar ingredients not on the Prop 65 list.
- 100% recyclable container and packaging
- Lightning fast customer support, personalized care and attention to detail